The Delhi Dramatic Club founded in 1943 served as the foundation for the current day Delhi Belgian Club from 1945-1946.
"At present, there are four major Belgian clubs in Canada. Two were organized near the turn of the century in Montreal and Saint Boniface; the other two were established after World War II in Delhi and Sabrevois [Quebec]. In 1948 the tobacco-belt Belgians felt the need for a clubhouse in Delhi for their social, recreational, and cultural activities. The club became the focal point for the traditional bicycle races, pigeon races, and Belgian bowling and pole-archery tournaments".
All four of these Belgian Clubs served the entire community and were never segregated communities due to the relatively rapid integration of Belgians into mainstream society. With the regular events hosted at the club, it eventually made Delhi a social centre for the entire area.
Around October 1958, a six lane bowling alley was installed.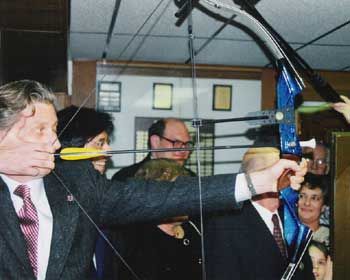 50th Anniversary
In June 1998, for the clubs 50th anniversary, a gala dinner was held to celebrate and the hall was a "packed house".1
Visit from Prince Philippe
During the same year, the Prince Philippe of Belgium and his entourage of ambassadors, aides, and security came to the hall and met with 500 people in attendance. On his visit he toured the kitchen and took a couple of shots at the archery range.1
The Flemish Emigrant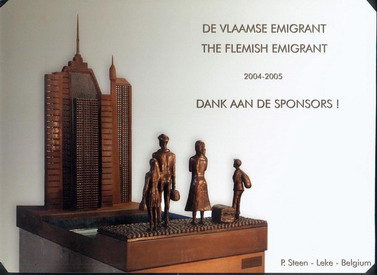 "The Flemish Emigrant" (De Vlaamse Emigrant (Dutch)), a statue created by artist Patrick Steen of Leke, Belgium, was unveiled at the hall on April 3, 2005. "This sculpture represents everything that emigrants had to face when coming to North America." said Gaston Geysens, the president of the club at the time. A private campaign was setup by researchers of Flemish emigration to North America, Ludwig and Doreen Vandenbussche (also of Leke, Belgium), in order to raise funds to have the artwork created. "The sculpture depicts a family waiting on the Rijnpier in Antwerp, Belgium, waiting to board a ship from the Red Star Line. The father has a suitcase, while the mother with her bonnet carries a small child on her hip. A boy stands off to the side with a bag, while girl stands to the other side with another bag." The bronzed sculpture is made of recycled materials and measures 1.55 x 0.90 x 1.5 metres and weighs in at 150 kilograms. The artwork is a symbol that those who emigrated from Belgium to North America haven't been forgotten.
Hall Closing
After serving the community for almost 69 years, the upstairs facilities were shut down at the end of 2016. At the end of April 2017, the downstairs bar and lounge was also closed and an auction of the contents was held. In December 2018, the deal to sell the property at 360 James Street North, Delhi, ON closed.
[1] http://www.ontla.on.ca/web/house-proceedings/house_detail.do?locale=en&Date=1998...